WATCH: How missing Tenn. student and her former teacher were found
Authorities received a tip pointing to a cabin in a rural area of northern California where the former Tennessee teacher, Tad Cummins, was found with 15-year-old Elizabeth Thomas.
▶ Full story on abcnews.com
▼ Related news :
Cindy expected to drench Tenn., Kentucky, W. Virginia
Detroit News
Tenn. group takes in 35 Colo. horses
Endplay
Female Tenn. inmates threatened for mentioning scabies outbreak
NY Daily News
TBI: Woman wounded in officer-involved shooting in White House, Tenn.
The Tennessean
Tenn. man loaded guns, prayed before capture of escaped inmates
NY Daily News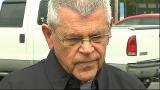 Two captured fugitives appear in Tenn. court
USA TODAY
Escaped Georgia inmates caught in Tenn.
USA TODAY
Elizabeth substitute teacher sexually assaulted student, authorities say
NJ.com
Cops: Teacher had sex with special ed student
Endplay
Iowa teacher accused of having sex with student
KCCI
Conn. teacher allegedly had sex with special education student
NY Daily News
Southern Iowa teacher accused of having sex with student
Qctimes
Married teacher gets lifetime school ban for having sex with student
New York Post
Alabama has a student-teacher sex problem
New York Post